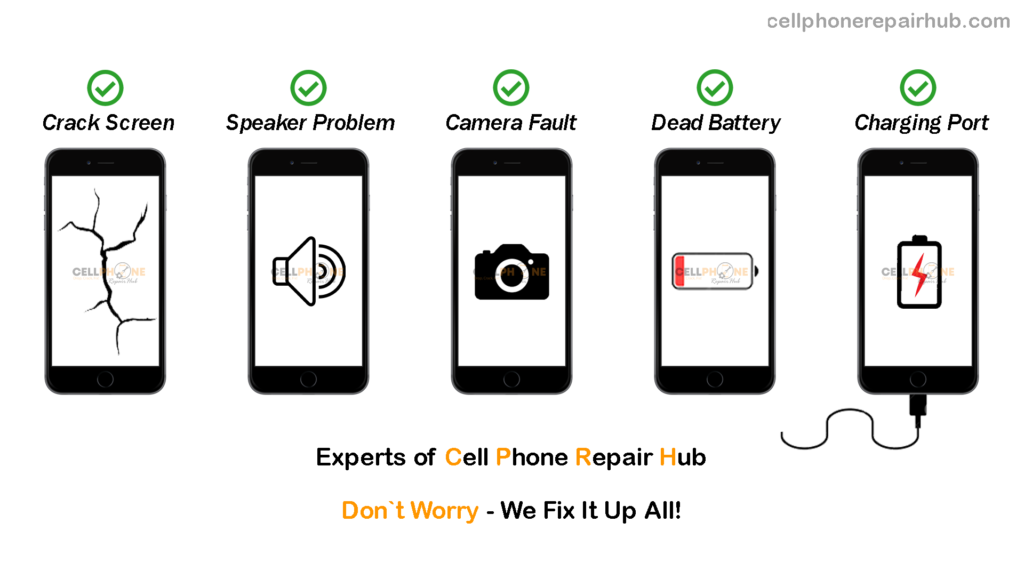 iPhone Repair
Whether your iPhone isn't performing like it used to do before or you've accidentally cracked the screen, experts at Cell Phone Repair Hub can fix it quickly and efficiently. Being one of the top iPhone repairing company in Houston, we only use genuine and premium quality Apple parts in our repairings. No matter what iPhone model you have, our professionals will repair it within a day or two, depending on the issue. We only hire well experienced and fully trained technicians so our customers can get high-quality iPhone Repair services. We have repaired countless iPhones and never received a single complaint regarding our technicians and services. To ensure our quality work, we've backed up all of our iPhone repair services with a 40-day warranty so our customers can get peace of mind or demand a free repair if they found any error. So, if you're living in Houston and need top-class iPhone Repair service at an affordable price, then call us at +1 346-212-8261 or come to our store so we can start your iPhone Repair ASAP.
iPhone Screen Repair
Did you just dropped your iPhone accidentally, and the screen broke? Don't worry. You don't have to waste your hard-earned money buying a new one as you can get it repaired. Being one of the leading iPhone service providers in Houston, we only use premium quality parts and provide top-class iPhone screen repair service at an affordable price. It doesn't matter if your iPhone has LCD or OLED, we've every iPhone screen available at our shop and ready to install. First of all, we'll check your existing screen panel, and if it can be repaired then we'll fix the existing one, so you don't have to spend a lot of money.
Need iPhone Battery Replacement?
As time passes by, your iPhone battery percentage begins to decrease. That is the reason why you don't get the same screen time as you used to before. To increase the iPhone battery life, you have to get your existing iPhone battery replaced with a new one by an expert. The iPhone battery replacement process is a bit complicated. You've to be extremely careful. Otherwise, your phone will be dead in no time. Experts at Cell Phone Repair Hub have provided high-quality iPhone replacement service to countless customers and have never received a single complaint. So, if you're searching "iPhone replacement near me" on Google and need to get your battery replaced by a professional, then visit us or call us on the number given below to schedule a booking.
We guarantee that you'll be shocked to see how much more screen time your iPhone will be able to provide after the iPhone battery replacement. It'll also resolve the error message (iPhone battery draining fast) that you're always getting on your home screen.
Is Your iPhone Microphone Not Working?
If you've dropped your iPhone in the water, then the chances are that your iPhone microphone has stopped working. There's no issue with your iPhone microphone settings. It just stops working when it comes in contact with water. The same is the case with the iPhone speaker. It also breaks down due to water input. If the existing iPhone microphone can be fixed, we'll repair it. Still, if the damage is irreparable, we'll replace it with a new and original one. We have all the required tools and parts available to provide high-quality iPhone microphone repair service to our customers quickly and efficiently. Call us at the number given below or visit our shop if you want to know about our iPhone repair cost.
iPhone Stopped Charging
Suppose you've tried changing the iPhone charger and the iPhone charger cable but still didn't get any response. In that case, the chances are that the charging port of your iPhone has broken. Charging your iPhone at the nearest iPhone charging station will also not work unless you get it fixed or replaced. With over 13 years of experience and a hardworking team behind, we're able to provide premium quality iPhone charge port repair service at a reasonable price. We offer a same-day iPhone repair service so you can start using your iPhone without wasting any time.
Cell Phone Repair Hub
Call us at +1 346-212-8261 or visit our shop at 3350 Chimney Rock Rd, Houston, TX 77056, United States, during the working hours if you want to get premium quality iPhone Repair service at an affordable price. Cell Phone Repair Hub is a one-stop-shop for all your iPhone repairing needs.
FEEL FREE TO CALL US & GET FREE QUOTE NOW